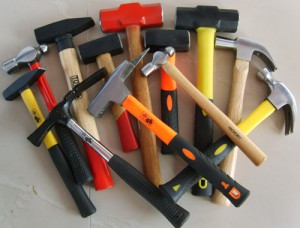 Racquet Network has been helping customers choose racquets since 2004. Over the years, we have seen thousands of frames (and thousands of features) come and go. One year the, hot feature is a "flex point". The next year it's "titanium". The year after that, it's "recessed grommet technology".
The truth is that some of these hot features are genuine technological innovations but most of them, unfortunately, are just marketing pitches. Every manufacturer wants you to believe that their frame is special. If you believe it is special, you will want to buy it. Therefore they are constantly tweaking their frames and adding features in order to swing more customers their way.
Sadly, too many customers fall for the marketing. Equally sad is the fact that so many customers buy particular racquets just because they are endorsed by celebrity athletes.
Racquets are like hammers. They are tools designed to accomplish specific tasks. If you are building a house, you want to use claw hammer. If you are shaping metal, you want a ball peen hammer. If you are breaking up concrete, you want a sledge hammer. But whether your hammer is made by Stanley, Craftsman or Dewalt is not really important. All three of these companies make all three of these hammers. Picking the right tool for the job matters much more than the brand.
The same is true for racquets. Wilson ™, Babolat ™, Head, Yonex ™ and Tecnifibre ™ all make tennis racquets. They make racquets for casual players, they make racquets for recreational players and they make racquets for professionals. All of these companies make racquets for doubles and racquets for singles. And they all make racquets that work for both.
At Racquet Network, we focus on carrying brands that are very well made. We avoid junk brands. We avoid brands who spend their money on celebrity endorsements and favor brands who spend their money on research and development. By doing this, we ensure a high level of satisfaction amongst our customers. In other words, we do this because we want happy customers who come back over and over again.
Just as hammers are tools, racquets are containers for string. Picking the right frame for the job (singles, doubles or both) is important, but it's only half the battle. Once you have the right frame, you have to customize it to your playing style and frequency. Nothing breaks our hearts faster than watching a customer spend $300 on a racquet only to have it strung with $10.00 string. We would much rather see customers spend $200 on the frame and $40.00 on good string.
Brand, as we said earlier, is not the most important consideration in choosing a racquet. Nor is a celebrity endorsement. Our staff are trained to ask new customers a series of questions in order to narrow things down to the proper category in just few minutes. Once we have the category right, we find something in the right grip size. After that, we pick out a few frames to consider in detail.
Once the frame is in hand, we start the process of customizing it for our customers. First we ask a series of questions that help us figure out what the customer wants or needs the string to do. Once we have that information we pick out three strings at three different price points and consider them in more detail.
At the end of the process, we are certain that the customer has a frame suited to their general needs that is precisely customized for their particular needs as a player. This is true whether customers play tennis, squash, badminton or racquetball. And it is for this reason above all that we have the highest overall rate of customer satisfaction in Calgary.