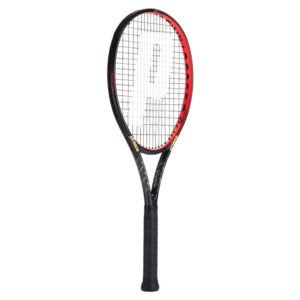 My Prince ™ tennis racquet is old. Do I need to replace it? It's a question we hear every week from customers with racquets that are sometimes older than our staff.
In more than half of the cases the answer is no. An old racquet is not necessarily a bad racquet just as a new racquet is not necessarily a good racquet.
If you are comfortable with a racquet and you play well with it, why change it? As long as the strings are replaced and the grip is maintained, the racquet can stay in service for years.
All of that starts to change when one of two things happens: either the bumper guard is damaged or grommets start breaking off. When either of these two things happen, the racquet will start to damage its own strings. Eventually, this can turn a trusted old friend into a nasty old string eater that costs a fortune to maintain.
At this point, your best course of action is either to replace the worn out parts or to replace the racquet. And since it is impossible to get parts for old Prince tennis racquets, the only realistic option is to replace the racquet.
Fortunately, we offer a Try One Before You Buy One program that allows customers to test drive a variety of racquets for a month. At the end of the month, they can choose a new racquet that they feel comfortable with.
So when the time comes to retire an old friend, come into our southwest Calgary store and talk to an expert. We can help you find a friendly new racquet that will be with you for the next two decades.
---
Prince Tennis Racquets
| | |
| --- | --- |
| | For a full list of racquets in this category, please check out our ONLINE RACQUET SELECTOR. You can sort by sport, gender, brand, size, weight, balance and more. |