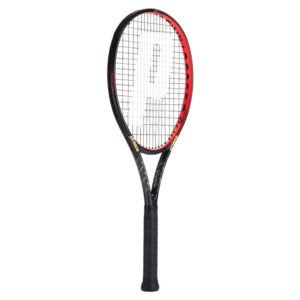 Most Prince ™ fans fell in love with their Prince tennis racquets in the late 80s or early 90s. They have a long term relationship with Prince and aren't interested in changing now. Unfortunately, this also means that a lot of Prince fans are playing with tennis racquets that are more than 20 years old.
The decision to upgrade is sometimes a painful one. Sometimes, it is the realization that replacement parts are just not available for racquets made this long ago.
In other instances, it's just time for a change. Players love their old racquets, but the frames are older than their adult children. So it's time for an upgrade. It's time for something new.
Regardless of your reason for buying a new Prince tennis racquet, our in-store experts can help. Simply bring your old racquet into the store for a consultation with one of our experts. We will look at the specifications of the new frames and tell you which of the current models is most like the one you have.
We can't recommend a specific racquet for you because have a firm company policy in place that prohibits our experts from recommending specific brands or specific models. However, our experts can answer questions about specifications and other details that will help you make an informed decision.
In-store customers also have the option of test driving Prince racquets in our Try One Before You Buy One program. Once they sign up, they have a month to try a variety of racquets for up to one week at a time. At the end of the month, they can choose the racquet that they are most comfortable playing with.
---
Prince Tennis Racquets
| | |
| --- | --- |
| | For a full list of racquets in this category, please check out our ONLINE RACQUET SELECTOR. You can sort by sport, gender, brand, size, weight, balance and more. |