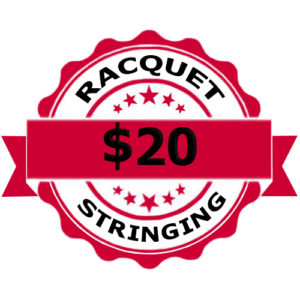 With more than 150 kinds of string in stock at any given moment, Racquet Network is well-known in Calgary for offering custom racquet stringing.
Since the racquet sports player network was founded in 2004, the southwest Calgary racquet store has turned out thousands of customized tennis, squash, badminton and racquetball racquets to some of our city's best players and coaches.
"We have built our reputation on customized racquet stringing," says owner Brent Johner. "We have always offered our customers more options than anywhere else. We offer more kinds of string, more colours, and more brands. We also offer more turnaround options. Our customers have always had the option of getting their racquets back in an hour, a day or a week."
Discount racquet stinging is new for Racquet Network. "Discount stringing is much cheaper," Johner notes, "because it comes with fewer options."
---
---
Home-based discount racquet stringers charge less than custom stringing stores like Racquet Network because they offer fewer options. Most stock only a few kinds of string and have very narrow windows for picking up and dropping off. A store like Racquet Network, by contrast, is open long hours which makes pick up and drop off very convenient.
"We don't expect to get much in the way of discount racquet stringing," says Johner. "We expect that most of our customers will still come to us because they want their racquets back fast and they want to customize their string beds to optimize performance, but we feel it is an important service to offer."
Racquet Network is a family business that serves both players and their families, Johner notes. In a lot of cases, Mom or Dad are serious players and want everything customized. However, they may not want the same level of customization for their kids. Discount stringing gives players who are not ready for customized racquet stringing a low-cost option. At the same time, it gives Racquet Network the opportunity to serve their customers' entire families.
"Discount stringing is a great option for players who aren't in a hurry and aren't looking for any performance enhancements," says Johner. "It may be a backup racquet or an old racquet somebody found in a closet. We don't judge. If that's what people want, we are happy to serve them."
Racquet Network now offers discount racquet stringing starting at $20.00, string and labour included.