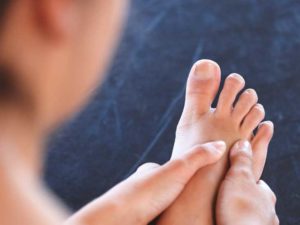 For a shoe fitting expert, information about blistering is excellent because it sends a clear signal about what is wrong with the fit of the shoe.
Unfortunately, this awesome information is often tied to equally bad information firmly planted it the customer's mind about what is causing the blistering. When this happens, it can make it a difficult issue to correct.
Here is the truth about blistering.
Where your feet are blistering will usually indicate what is causing the blisters.
Blistering on the heel, for example, is caused by shoes that are too short. Court shoes that are the correct length will be loose enough in the back not to cause blistering on the heel.
Blistering on the outside of the foot or the side of either the big toe or the little toe is usually caused by shoes that are too narrow.
If blistering in these places is also accompanied by bruised or blackened toenails, then the shoe is to short as well as too narrow.
Blistering on the sole of the foot can be caused by shoes that are too big, but it is most often caused by damp cotton.
Wet skin is weak skin. Weak skin tears. So if you developed a large blister on your forefoot that splits open late in a match, the first thing you should check is your socks.
Wet socks weaken your skin and make it susceptible to tearing.
Either buy some polyester socks or change your cotton socks frequently during your match. Keeping your feet dry is the first step in avoiding skin tears.
We strongly recommend that players with friction issues carry a tube of Body Glide and a tube of Anbesol. The glide can be applied to areas of known friction. The Anbesol can take the sting out of blisters that are starting to develop.
---
Yonex Men's Badminton Shoes
A small random selected of our Yonex men's badminton shoes