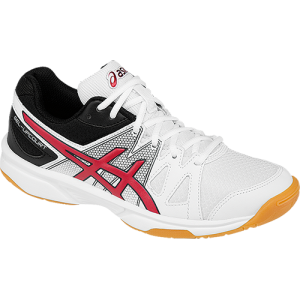 If your kid is playing squash or badminton, you have probably already experienced some of the frustrations common to parents on the subject of court shoes. For one thing, it can be difficult to find anybody who carries them. For another, stores who do carry them never seem to have much of a selection.
We understand. In fact, we sympathize. But as retailers, there is not much we can do except stock what is available and offer it to customers at reasonable prices.
Unfortunately, shoe manufacturers don't listen to specialty retailers any more than they listen to parents. Nor do the distribution companies. About the only people they listen to are the sporting goods giants and the giants are only interested in things they can sell by the millions. Kids court shoes, unfortunately, are not in the "millions" category.
As retailers, we get the catalogs from the manufacturers three to six months before the season starts. All brands combined, we might have a total of 50 models of indoor court shoes to choose from. Of those 50 models, six might be kids' shoes. Of those six models, four might be available in full and half sizes. The colours will be divided equally into boys and girls. This means two models for boy and two for girls — if we are lucky.
Obviously, selection for boys and girls is not large to begin with. Once you begin digging into sizes, though, the selection gets even smaller. Yonex ™, for example, manufactures half sizes in Japan, but Yonex Canada does not import them so half sizes are not available in Canada. Asics, on the other hand, offers half sizes, but they generally only import one or two colours in the most common sizes. Sizes like US YOUTH 11 or 5 or 5.5 are often not available at all.
As retailers, we want to be able to offer boys and girls a dozen options in every possible size. Unfortunately, the manufactuers don't make that possible for us. The best we can do, therefore, is to buy what is available when it is available and have at least some selection on hand when you come to visit.
Here at Racquet Network, our buyer is always on the lookout for kids indoor court shoes. He knows they are not always available, so he stocks up when he can. His goal is to ensure that we have the largest selection possible when you come in with your child.