Description
Tecnifibre ™ Red Code Tennis String – 16 Gauge
PRODUCT DESCRIPTION
Extra durability. High quality copolymer monofilament/polyester.
Played by:
Devin Britton | Denis Istomin | Daniel Cox | Shane Vinsant
Manufacturer: Tecnifibre
Sport: Tennis
Type: Polyester
Gauges: 16, 17, 18
Colours: Red
Formats: 40′ Coil and 200m Reel
---
Racquet String Categories
The are several categories of racquet string. Each has pros and cons. For a summary that hits on the main features of each category, please refer to our Racquet String Categories Guide.
---
String Gauge Guide
Racquet strings come in a variety of gauges each of which has pros and cons. For a better understanding of gauges, please see our Racquet String Gauge Guide.
---
We are Racquet Stringing Experts
---
Yonex Stringing Team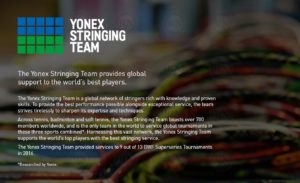 Racquet Network is a member of the prestigious Yonex Stringing Team. We are invited to string at elite tennis and badminton events. While we cannot attend every event we are invited to, we do our best to help out when such events are in Alberta.
Product Details
| | |
| --- | --- |
| Sport | |
| Format | String Set |
| String Type | |
| String Gauge | |
| Diameter | 1.15mm, 1.25mm, 1.30mm |
| Colours | Red |
| Brand | |
| Item Type | Ships from e-commerce division 3 |