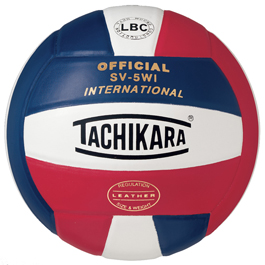 Racquet Network is proud to announce the addition of Tachikara ™ to our brand family.
In addition to offering Calgary's largest selection of volleyball and court shoes, Racquet Network is now offering Tachikara volleyballs, kneepads and other accessories.
"We expanded our shoe selection going into the fall season, this year," says owner Brent Johner. "We added 50 new models of court shoes for men, women and juniors, many of which were in the volleyball category. At the same time we added volleyball knee pads. So it made sense for us to go one extra step and support those product lines with Tachikara volleyball balls."
Tachikara is a Japanese company, founded in 1915, that makes balls and other sports equipment. They are best known for their volleyballs. They make the official ball of NAIA women's volleyball, and of Volleyball Canada, China, Europe, Oceania, and Africa.
Racquet Network is Calgary's largest racquet sports specialty store. In addition to carrying racquets and accessories, the company offers the largest selection of court shoes in the city. For that reason, they already have a large and loyal volleyball clientele.