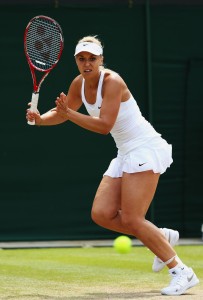 18 JUNE 2015
Sabine Lisicki (Yonex ™ VCORE Tour F 97, Yonex POLYTOUR SPIN) has a new record to her name. The fastest-serving woman on Earth made history once again on June 17th, 2015 at the Aegon Classic Birmingham by hitting off an astounding 27 service aces in the tournament's second round. Along with breaking this new record, Sabine also advanced into the next round.
"Yeess…with my 27 aces I've got another record. Too bad I missed the 131 mph serve by a few inches," commented the 25-year-old German on her Twitter account. Sabine broke this record with the new Yonex VCORE Tour F 97. Featuring aerodynamic fins carved into the inner edge of the frame head, the VCORE Tour F grants a 6% increase in serve speed, allowing you to serve like the record-breaking German. The previous WTA record for most service aces was 24 from Serena Williams.
On July 29th 2014, Sabine made history by hitting a serve that clocked in at 131 mph (210.8 kmh) at the Bank of the West Classic in Stanford, California, becoming the fastest-serving female player in the world.
A video of Sabine's 27 aces can be found on the official WTA website here: http://bit.ly/1JZrvkt