Description
Yonex ™ Nanoflare 270 Speed Badminton Racquet
A head-light racquet that also provides extra shuttle speed and distance! Yonex introduces the Nanoflare 700!
While many players around the world prefer the touch and maneuverability of a head-light racquet, the one downside has been sacrificing the shuttle speed and power of a head-heavy racquet. Yonex Co. Ltd. has upended that contradiction with the new Nanoflare 700 (releasing March 1st), a head-light racquet built with unique technology and construction that helps players not only play nimbly but also achieve increased shuttle acceleration allowing them to hit deep into their opponent's court.
To achieve this, designers and engineers at Yonex reimagined frame design. Firstly, the Nanoflare 700 is the first racquet to utilize the Sonic Flare System design, utilizing the latest in graphite technologies, such as TORAYCA® M40X*, to create a stable yet highly repulsive head shape. Additionally, by designing a highly aero-dimensional shape built to compress and "snap back." they were able to realize an ultra-light racquet (5U avg. 78g) for players who demand agility, that is also able to launch the shuttle at speeds not before possible in a head-light racquet. This also results in a greater hitting feeling and less impact on the player's arm.
Launching alongside the 700 are four other models in the new, head-light Nanoflare series. The 370 SPEED is designed for advanced players who desire improved smash speeds, while the 270 SPEED is intended for intermediate to advanced players seeking greater clears, and the 170 LIGHT is for beginning players who require the ultimate in lightness and maneuverability. Additionally, the Nanoflare Jr combines the lightweight, maneuverability with added speed, distance and comfort of the 700 in a junior racquet intended for competitive junior athletes.
Pre-strung with Yonex Demo Gut
This racquet is pre-strung with Yonex Demo Gut. This string is put into lower cost Yonex racquets to help them keep their shape and to allow the customer to have an opportunity to get a feel for the racquet before choosing the right string for their playing style. Yonex Demo Gut is a temporary string that should be upgraded shortly after purchasing the racquet.
Specifications:
Item Code: NF-270SP
Flex: MEDIUM
Frame: High Modulus Graphite / Nanocell Neo / Super High Modulus Graphite
Shaft: High Modulus Graphite
Available Weights / Grip Sizes:
4U (Ave.83g) G4
Stringing Advice:
5U 19-26lbs
4U 20-27lbs
Made in: Made in Taiwan
---
Racquet Demo Program

TRY IT BEFORE YOU BUY IT
Racquet Network's pro shop offers several programs for customers who want to use our racquets or try new racquets before they buy them. Book an EXPRESS SERVICE APPOINTMENT to visit the pro shop in person for more information.
---
Online Offer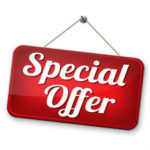 Customers who purchase select premium customized badminton racquets online are offered
free string option
free installation option
free stenciling option
free shipping option
free racquet engraving
free racquet cover engraving
Customers who want this special offer must order online. This offer is not available in-store.
---
Sonic Flare System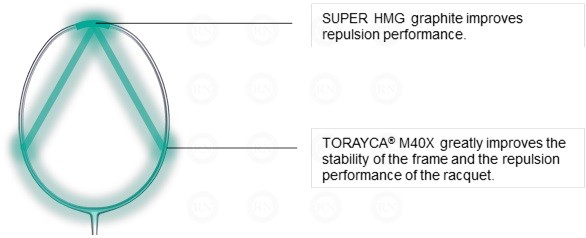 ---
Nanocell Neo
A resilient yet surprisingly flexible graphite material.
---
Isometric Head Shape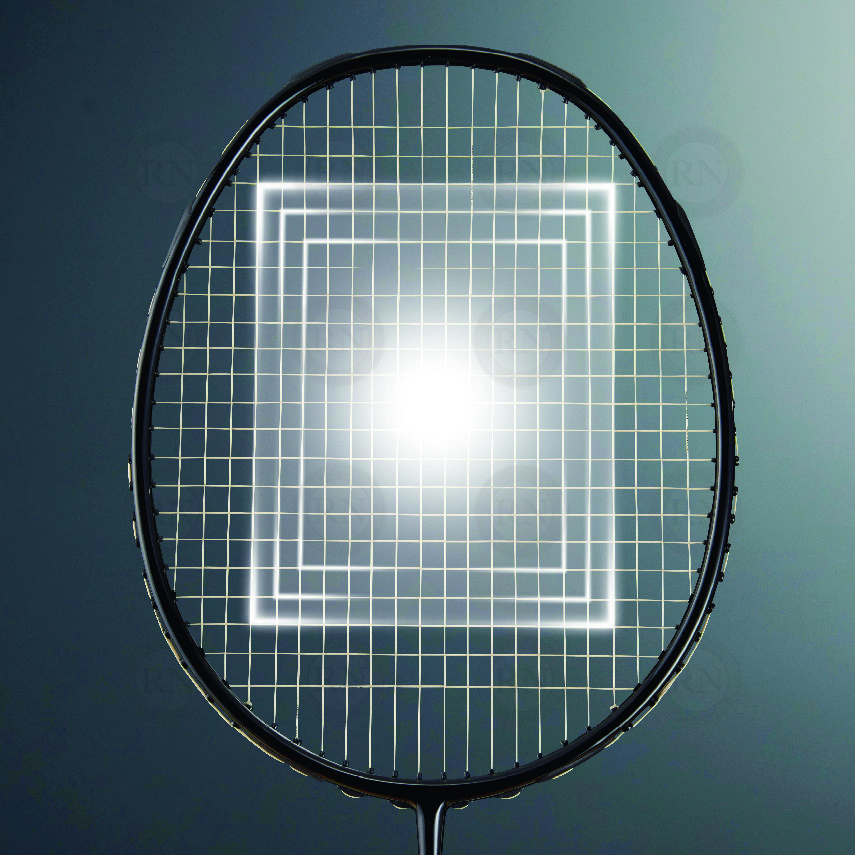 Yonex' square-shaped ISOMETRIC frame shape is designed to keep vertical strings at a similar length. This shape produces a larger sweet spot in all directions.
---
Super Slim Shaft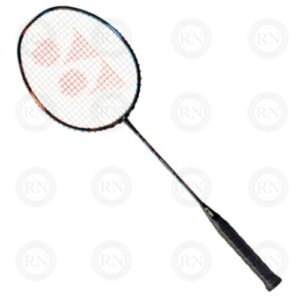 This is the slimmest shaft ever produced by Yonex. It vastly reduces air resistance whilst providing maximum feel.
---
New Grommet Pattern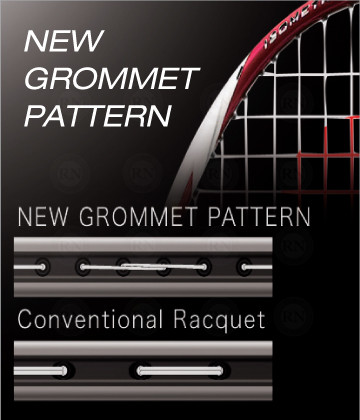 Yonex' new single-pass grommet hole construction provides more grommet holes and fewer shared holes than other brands. This permits for a more high-performance stringing pattern.
---
Yonex Aero Frame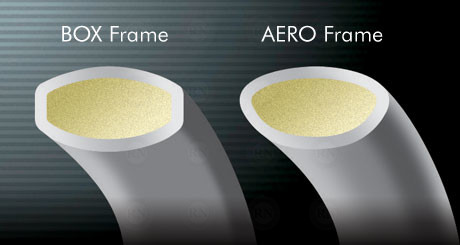 Decreases air resistance and realizes a quicker swing.
---
Built in T-Joint
Moulded deep into the layers of graphite where the frame connects with the shaft, the YONEX Built-in T-Joint creates a durable and high-strength one-piece frame that is torque-free.
---
Yonex Control Support Cap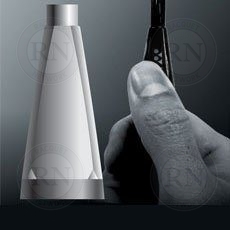 The control support cap provides an 88% wider flat surface compared with an ordinary racquet for easier gripping, fast follow-through and the sharpest maneuverability.
---
How to String This Racquet
| | |
| --- | --- |
| Length Mains | 18.5′ |
| Length Crosses | 14.5′ |
| Tension | Printed on frame |
| Pattern | 20×21 |
| Start Mains | Head |
| Mains Skip | 8H, 10H, 11T |
| Tie Off Mains | 8T |
| Start Crosses | 9T |
| Tie Off Crosses | 6T |
| Last Cross | 7H |
| Tie Off Crosses | 5H |
The outside two mains on either side of this racquet should be finished using a standard Yonex double-back method. For this racquet, the double path is 9T to 12T to 15H to 13H to 10T before tying off at 8T.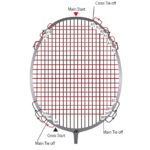 ---
Help Choosing Badminton Racquets

Need help choosing a badminton racquet? Come into our store and talk to our friendly and knowledgeable staff. If you can't do that, try our RACQUET SELECTOR.
---
We are Racquet Stringing Experts
---
Yonex Stringing Team
Racquet Network is a member of the prestigious Yonex Stringing Team. We are invited to string at elite tennis and badminton events. While we cannot attend every event we are invited to, we do our best to help out when such events are in Alberta.

No posts found.
Product Details
| | |
| --- | --- |
| Offer Type | This offer must be purchased through the website |
| Item Type | Ships from e-commerce division |
| Store Availability | This ecommerce website does not track in-store inventory, in-store offers, or in-store prices. That information is available in-store. |
| Sport | |
| Brand | |
| Grade | Adult Recreation |
| Game Group | Singles & Doubles |
| Age Group | |
| Length | |
| Frame Weight | 4U (80-84g) |
| Grip Size | |
| Frame Flex | |
| Stroke Style | |
| Balance | |
| Warranty | 6 months |
| Colours | Purple |