Description
Yonex ™ Nanoflare 800 LT Badminton Racquet
Our Description
The Nanoflare 800LT is the 5U version of the Nanoflare 800.
Yonex' new Nanoflare series replaces the old Nanoray series. Players who were comfortable with Nanorays will be equally comfortable with Nanoflares. As with the old series, the new Nanoflare series is designed primarily for patient, skillful badminton players who play a mix of drops and clears. Where the Astrox and Voltric series are for smashes, drives, and other power shots typically played from the back of the court, the Nanoray/Nanoflare series is aimed at mid- to front-court players.
The Nanoflare series has been re-engineered to deliver more power while maintaining the traditional a head light design that Nanoray players are accustomed to. The new loop features new materials and a new design which increases repulsion power. Meanwhile, the shafts of most of the racquets in this series are now made of high modulus graphite, which further increases flexibility and power throughout the range.
---
Help Choosing Badminton Racquets

Need help choosing a badminton racquet? Come into our store and talk to our friendly and knowledgeable staff. If you can't do that, try our RACQUET SELECTOR.
---
Manufacturer's Description
Yonex Co., Ltd. is proud to announce the NANOFLARE 800, a head-light racket designed for incredible speed to support aggressive play and rapid-fire rallies, releasing worldwide on August 30, 2019.
The main new feature of the NANOFLARE 800 is the ultra-thin Razor Frame, which is aerodynamic from all angles. Compared with other thin frames, the 360° streamlined Razor Frame means air resistance is reduced by up to 11.5% from all angles, resulting in a faster swing speed. This also means that shuttle speeds off the racquet have increased. Overall, because of the quicker speeds, the player can reach the shuttle earlier, improving their ability to pressure opponents with aggressive drives and pushes
Additionally, a high elasticity carbon has been utilized in the top of the frame for repulsion, while a new graphite material, TORAYCA® M40 X*2 that is both strong and highly elastic is used in the lower part of the frame. This is the 800's iteration of the Sonic Flare System, designed to rapidly eject the shuttle after contact.
---
Online Offer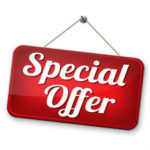 Customers who purchase select premium customized badminton racquets online are offered
free string option
free installation option
free stenciling option
free shipping option
free racquet engraving
free racquet cover engraving
Customers who want this special offer must order online. This offer is not available in-store.
---
Racquet Specifications
---
Colours
The Nanoray 800 LT is currently being offered in one colour option: black/ice blue. As with other Yonex frames, new colour options may be released every six months. We will update this page when other colour options become available.
Flex
This is a stiff flex badminton racquet, which makes it suitable for advanced and elite players. Players at the recreational level may find this racquet too stiff. Players under 15 and some seniors, especially ladies, may want to consider choosing a different racquet with a hi-flex frame.
---
Racquet Demo Program

TRY IT BEFORE YOU BUY IT
Racquet Network's pro shop offers several programs for customers who want to use our racquets or try new racquets before they buy them. Book an EXPRESS SERVICE APPOINTMENT to visit the pro shop in person for more information.
How to Test Drive the Yonex Nanoflare 800
---
Materials
The loop is made of a mix of advanced materials that include high modulus graphite and M40X graphite in different areas of the racquet. The shaft consists of high modulus graphite.
Available Weights / Grip Sizes
This lightweight version of the Nanoflare 800 is only available in the 5U weight, which is 75 to 79 grams. It is offered in only one grip size (5) which is suitable for ladies and/or juniors.
Which Yonex Nanoflare is Best for Me?
Stringing Advice
This racquet should be strung in the 19 to 27 lb range. As with most badminton racquets, recreational players will string in the 22 to 24 lb range unless they need to do otherwise. Players who need advice about stringing this racquet should come into our store and consult with a stringing expert.
How to String the Yonex Nanoflare 800 LT
How to Customize the Yonex Nanoflare 800 LT
---
Racquet Technology
---
Sonic Flare System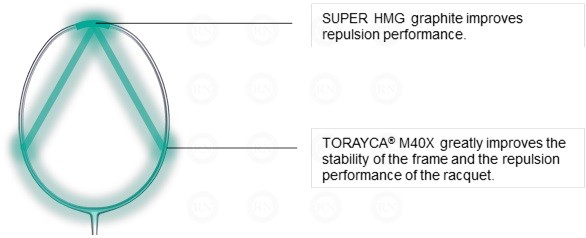 ---
TORAYCA® M40X*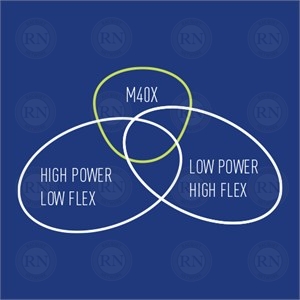 Power with a more flexible frame
A strong, elastic graphite is added in the throat to improve frame stability and flex.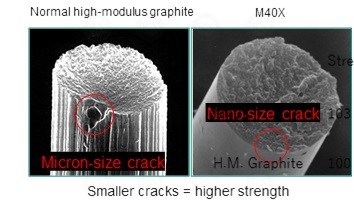 M40X Graphite (aka Super High Modulus Graphite) is stronger and more resilient than High Modulus Graphite
| | | |
| --- | --- | --- |
| | Strength | Resilience |
| M40X Graphite | 103 | 133 |
| H.M. Graphite | 100 | 100 |
*TORAYCA® is a next generation carbon fiber developed by Toray Industries, Inc.
---
Yonex Nanometric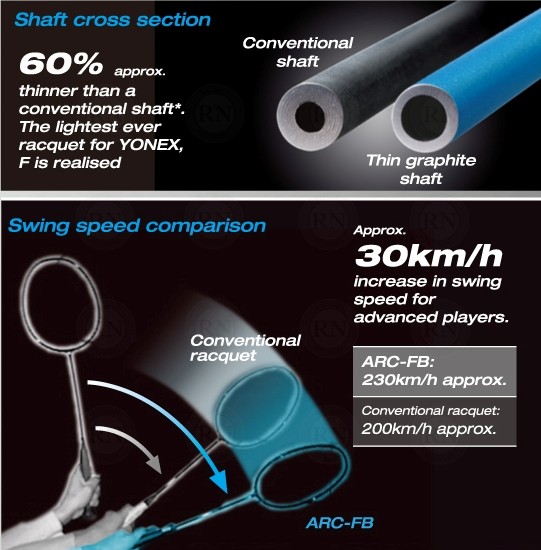 NANOMETRIC* improves the bonding strength between the carbon fibres enabling us to take racquet shaft construction to another level. By reducing the amount of carbon in the shaft to make it 60%* thinner than a conventional racquet whilst retaining stiffness, YONEX has created a revolutionary lightweight racquet with lightening head speed and control.
*NANOMETRIC is the new material which applies the NANOALLOYTM Technology of Toray Industries, Inc.
---
Razor Frame
By reducing the upper part of the frame by 13% and the lower part by 15.1%, when compared to conventional thin-frame racquets, air resistance is reduced by 9.3% in the upper portion of the frame and 11.5% in the lower. The Ultra Slim Shaft adds to the aerodynamic properties of the racquet.
---
Isometric Head Shape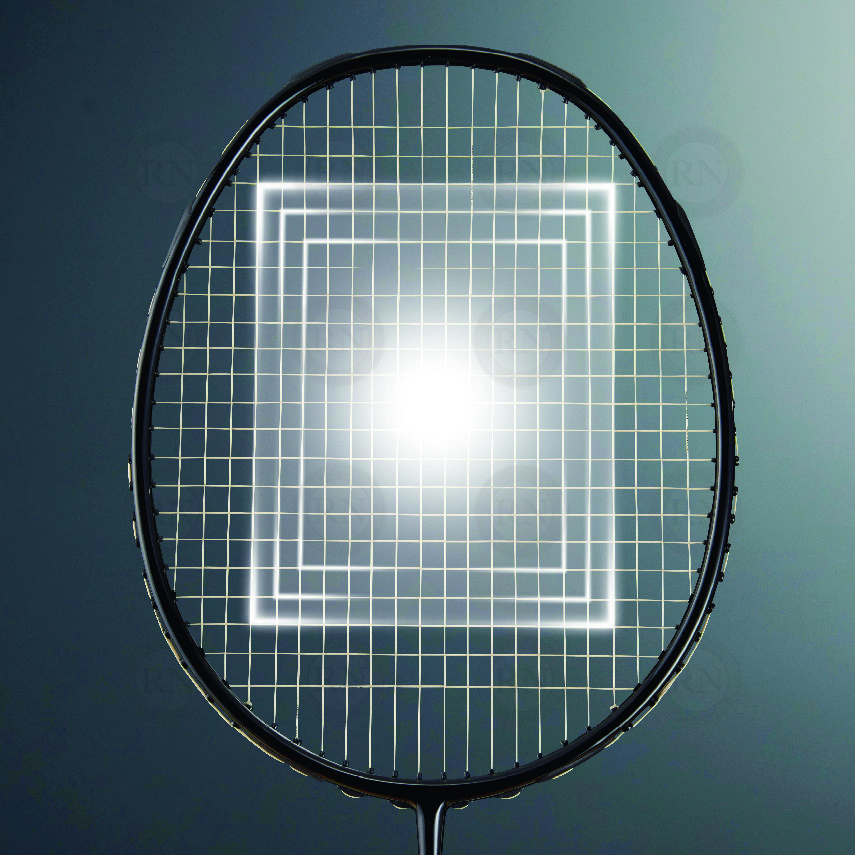 Yonex' square-shaped ISOMETRIC frame shape is designed to keep vertical strings at a similar length. This shape produces a larger sweet spot in all directions.
---
New Grommet Pattern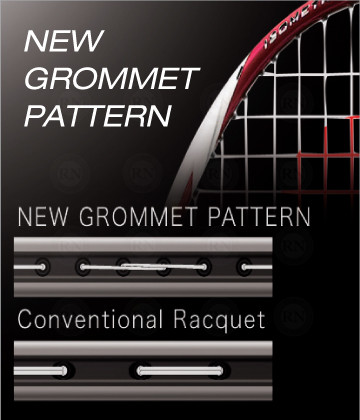 Yonex' new single-pass grommet hole construction provides more grommet holes and fewer shared holes than other brands. This permits for a more high-performance stringing pattern.
---
Solid Feel Core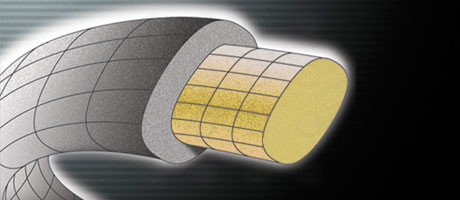 The built-in solid feel core in Yonex premium racquets reduces harmful miscellaneous vibration at impact. This technology, called "solid feel core" is a feature of all Yonex racquets manufactured in Japan.
---
Built in T-Joint
Moulded deep into the layers of graphite where the frame connects with the shaft, the YONEX Built-in T-Joint creates a durable and high-strength one-piece frame that is torque-free.
---
Yonex Control Support Cap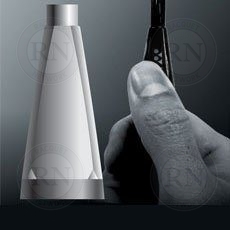 The control support cap provides an 88% wider flat surface compared with an ordinary racquet for easier gripping, fast follow-through and the sharpest maneuverability.
Product Details
| | |
| --- | --- |
| Item Type | Ships from e-commerce division |
| Store Availability | This ecommerce website does not track in-store inventory, in-store offers, or in-store prices. That information is available in-store. |
| Sport | |
| Brand | |
| Grade | Adult Performance |
| Game Group | Doubles Only |
| Age Group | |
| Player Type | Defensive |
| Format | Customized |
| Length | |
| Frame Weight | 4U (80-84g) |
| Grip Size | |
| Frame Flex | |
| Stroke Style | |
| Balance | |
| Warranty | 6 months |
| Colours | Blue |