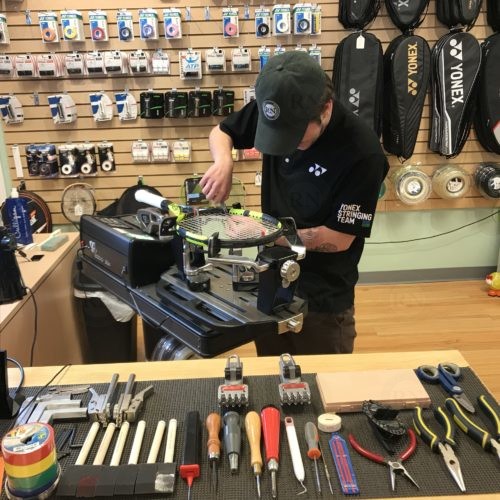 Calgary's Racquet Network is well known for our custom racquet stringing program. Top players from all over southern Alberta and interior British Columbia bring their racquets in for full customization. When their game is on the line, they trust us with their most important tools.
What is not as well know is that we also offer discount racquet stringing for players who just want some string in their racquets and aren't necessarily looking for the whole custom racquet stringing experience.
Our discount stringing services programs and handled by the same staff of professional stringers who do racquets for the top players. They use the same machines and the same techniques, they are just done at a time of day when our machines and our staff would normally be sitting idle. This allows us to charge less that we do during peak hours.
Free Racquet Stringing
Our cheapest option is free. We have a free stringing program that rewards players who are making important volunteer contributions to the growth of their sports in Calgary. Depending on the player and what their contributions have been recently, we may reward them with free labour on single racquet as a one-time thing or we may string all of their racquets for free all of the time.
We also have a program that allows Calgary coaches, parents and active players access to our stringing machine after hours so that they can string their own racquets.
Cheap Racquet Stringing
Players who have not made a significant contribution to the growth of their sports are required to pay the usual fees for stringing services, but that doesn't mean they have to pay full price for custom stringing services every time they come in. In fact, we offer a number of discount options as well.
Our best know economy option is our Stringing-On-the-Spot program which runs from 5:00-8:00pm every weekday. We also offer a "Just the Basics" program and another program for frequent string breakers.
Surprise Bonuses
Customers who come in for our On-the-Spot stringing program, are sometimes surprised to find out that we have deducted an additional 20% to 100% off of their already low stringing bill. We call these unannounced Customer Appreciation nights and we hold them once a week every week.
During these random, unannounced customer appreciation events, we check five major review sites while we are stringing each customer's racquet. If we see five-star reviews that match the customer's name, we knock off 20% for each. This is our way of showing our appreciation for customers who are out there saying nice things about us.
Bulk Stringing
Schools, groups and clubs can enjoy the benefit of strength in numbers because they can access our bulk stringing programs. In this program, the cost can drop to as low as $10.00 per racquet. Contact us at orders@racquetnetwork.com for more information.
Custom Stringing
Price is not everything, of course. Most of our players still want custom stringing so that they can have their racquet customized to their individual specifications. Therefore also offer custom and express options. The good news is that players who want custom stringing always have the option of pre-ordering online and getting online discounts that are not available to walk in customers.
Whatever your racquet stringing needs, Racquet Network can help. We offer more options at more price points than anybody else in Calgary. Whether you want it cheap, fast, generic or customized, we have the answer. And if you help us build our business, we will help you save even more in return.